success stories:
---
< Back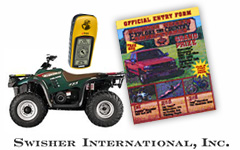 Case Study: Consumer Sweepstakes
Client: Swisher International
Program Name: Explore The Country

Objective:
To design a consumer sweepstakes that ultimately drives sales and recognizes brand loyalty.
Overview:
In the fall of 1999, Swisher International decided to run their first ever Consumer Sweepstakes with the famous "Swisher Sweets" Cigar brand. Robustelli Incentives & Motivation, working closely with Swisher International and the brand's Agency of Record (Morgan & Partners) developed the "Explore The Country" theme for this promotion. "Explore The Country" was recommended to generate excitement and to tie in with Swisher's brand imagery and demographics. The prize pool was carefully selected to feature brand name merchandise that closely supported the program name. Consumers were able to enter the sweepstakes online and by mail. "Explore The Country" was promoted through a full page magazine advertisement that appeared in national publications including Field & Stream, Outdoor Life, Bassmaster, Playboy, Sporting News and Sports Illustrated. In-store displays with tear tab entry forms were also created and distributed to tobacco retailers nationwide. Approximately $500,000.00 in national advertising was spent to promote the sweeps.

Benefits:
By adding a four month sweepstakes element to their existing media advertising campaign, Swisher was able to cost-effectively solidify brand loyalty with their existing customers and drive sales - thus increasing market share for the category. The sweepstakes also produced a valuable consumer database that will be used for future promotional marketing efforts.

Results:
Over 35,000 individuals entered the "Explore The Country" sweepstakes for a chance to win one of over 36 prizes including the Grand Prize 2002 Chevy Silverado 4X4 Pick-up. Additional prizes included a Polaris 4X4 ATV, Old Town Kayak, Jeep Full-Suspension Mountain Bike, Gamin GPX units, Motorola Talk-a-bout 2-Way Radios, Nikon Binoculars, Bushnell Rangefinders, Camp Trails Backpacks, and Johnston & Murphy Chukka Style Hiking Boots.